Day Center for Rehabilitation of Esperando services include:
A. Beneficiary services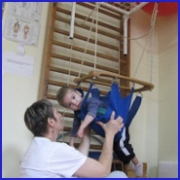 Initial evaluation
Physical recovery
Education and development
Complementary therapies
Free time and socialization
Ocupation
B. Family services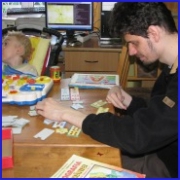 Educatie adaptata, non-formala si informala
Logopedie
Psihoterapie
Consiliere psihologica pentru pacient si familie
Formarea deprinderilor de viata independenta
Activitati ludice
Terapie cu muzica si arte
Terapie prin activitati manuale si creative
C. Comunity services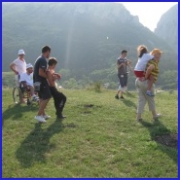 Actiuni in parteneriat si schimburi cu scoli, licee, gradinite, alte organizatii
Spectacole, serbari, aniversari
Iesiri in comunitate, la institutii de cultura si arta, la muzee etc.
Iesiri din localitate, la iarba verde, in natura, la locauri turistice
Excursii si tabere
Activitati in comunitate, inclusiv daruirea de martisoare in locuri publice, la spitale si caminul de batrani, vizite la batrani etc.
Services description